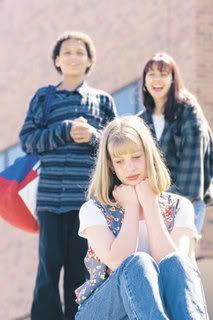 If you are a parent of a child with Celiac Disease or gluten intolerance, or any other food allergy for that matter, how do you handle negative responses from other kids?
When my daughter was diagnosed over 3 years ago with Celiac Disease, I knew this was a lifelong journey for her. We made an immediate decision that we were not going to let her suffer from not eating the foods she loves and enjoys. But most importantly of all was our decision how to handle the situation. We could be negative about how hard it is to feed her, or how expensive of a way of eating it is, or what she is missing out on. Instead, we chose to embrace what she has and make the best of it. We have worked hard to equip her with the knowledge of the disease, so she understands what happens to her body when she eats gluten. We have also educated her well on safe and non safe foods. I work hard to find great recipes for gluten free cookies, cakes, donuts, brownies, pizza, pastas, and breads. I have tried hard to instill confidence in her about what she has, so she can educate others about the disease.
Even with all the knowledge we have given her on the disease, and the confidence with her food we have instilled, there are still situations. Situations where kids are just flat out mean. There was a particular incidence last spring. She is homeschooled, and goes to a co-op twice a week. They were having a special celebration that day, I believe it was someone's birthday. They were outside and all the kids were enjoying the cupcakes the child had brought and shared with the class. EB had brought her own cupcake for the celebration. There was another boy that was in her class who started "drilling" her on why she wasn't eating the birthday cupcake. She proceeded to tell him that she had Celiac Disease and was unable to eat any wheat products, and cupcakes contained wheat. He continued to give her a really hard time and was telling her she was "missing out" because the cupcakes were so good, and lots of "ha, ha, you can't eat this" going on. She came home that day a little discouraged about her disease and the way she has to eat.
Did you know that according to a Mount Sinai Hospital study, they found that 35% of children over the age of 5 with food allergies, experience some sort of bullying or harassment? Of those children being teased, 86% reported repeated episodes. Most of the teasing and harassing came from peers, but 20% of the kids reported teachers and staff would harass the children in some way. Of the kids studied, 65% reported feeling of depression or embarrassment from being harassed. This is very disturbing to me as a parent. These "situations" with harassing and bullying can have lifelong effects on children. ( You can read more on the study here.)
So what can we do about it?
Educate your child on their disease, or allergy

Teach your child that it is ok that they eat differently than their peers

Be sure teachers, caregivers, and staff are fully aware of your child's allergy

Education to peers is vital. Ask the teacher if you can have you and your child give a presentation in class of their allergy, what it does to their body, and bring some yummy food samples for their peers to try, the idea is that they wouldn't find the allergy such a big deal after trying some foods that are good to eat.

Try to send foods that "look like normal" foods. Gluten Free bread, cupcakes, fruits, vegetables, gf pretzels. If the food looks about the same, even if it is totally different, no questions will be raised.

Communicate with your child on a regular basis about how they are feeling and coping with their allergy

Be proactive in finding/cooking good foods for your child to eat. There are so many great blogs with recipes on them.

Stay positive. If they see you being positive about the situation, that will help them cope better.
I hope this gets your mind going a little bit, and if you haven't been doing any of these things, now is the time to start. Feel free to contact me if you have any questions!